Loading script and Flickr images
Our National Helpline for people with MND, families and all Professionals.
For your every question and enquiry- not just emergency.
Mon-Fri 9 am to 5 pm and then 7 pm to 10.30 pm.
Calls charged at local rate.
MNDA Birmingham & Solihull Team
----------------------------------------------------------------------------------------------------------------------------------------
Please Consider making A Donation to assist People living with MND in the Birmingham & Solihull Area via this 'Just Giving' Link:
https://www.justgiving.com/MNDAssociation-Birmingham-Solihull-Group/  
 If you are a tax-payer you can arrange for the Tax Office to ADD 25% to your donation.
***************************************************************************************************************
MND Memorial Tree
[The variety of tree chosen is Davidia Involucrata also known as the 'Handkerchief Tree']
The Birmingham & Solihull Group plan to plant an "MND Tree" for all who have lost somebody to MND, with the hope that one day this disease will be cured. This memorial (in the form of a beautiful living, growing, 'handkershief tree' that is both permanent and pleasant to visit) will be seen as a symbol of hope for " a World Free of MND."
Birmingham City Council Parks Department have offered to plant "The MND Tree' in Cannon Hill Park together with a dedication plaque. 
The 'MND Memorial Tree' is not a sapling but rather a young mature tree. This choice was made because this species of tree does not produce its destinctive spring 'flowers' [Bracks] until it is about 9 to 10 years old.  Planting will be undertaken in November 2016.  Later, as the tree settles, and hopefullycomes into bloom, by May/June 2017, we will hold a 'dedication ceremony' and invite an appropriate dignitary to the small ceremony.
The tree will be a living memorial to all those lost to MND and will also act as a symbol of hope for the future.  When the tree is planted and dedicated we plan to sert up  a permanent 'Book of Remembrance' or 'light a virtual candle' on the MND Association web-site.  There will also be an ability to create 'Ribbons of Hope' for those living with MND today and going forward. 
Cannon Hill Park, Birmingham is open to everybody. The MND Tree will be in the heart of Birmingham, at the heart of the country. 
Below: Photo of a mature 'Handkerchief Tree' in bloom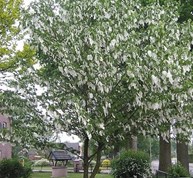 For the latest information or to donate to the MND Tree fund (so that we can cover the costs of purchase and planting) please go to:
 https://www.justgiving.com/fundraising/MNDmemorialtreeappeal
****************************************************************************************
THE BIRMINGHAM & SOLIHULL
GROUP OF THE MND ASSOCIATION
If you are a person with MND, their Carer or a family affected by MND we warmly invite you to our:

ANNUAL CHRISTMAS LUNCH
If interested in coming to, or supporting this event please contact   This e-mail address is being protected from spambots. You need JavaScript enabled to view it  Tel: 07738874667
 If you are a person living with MND we may also be able to help
with your transport costs to and from the venue.
88888888888888888888888888888888888888888888888888888888888888888888888888888888